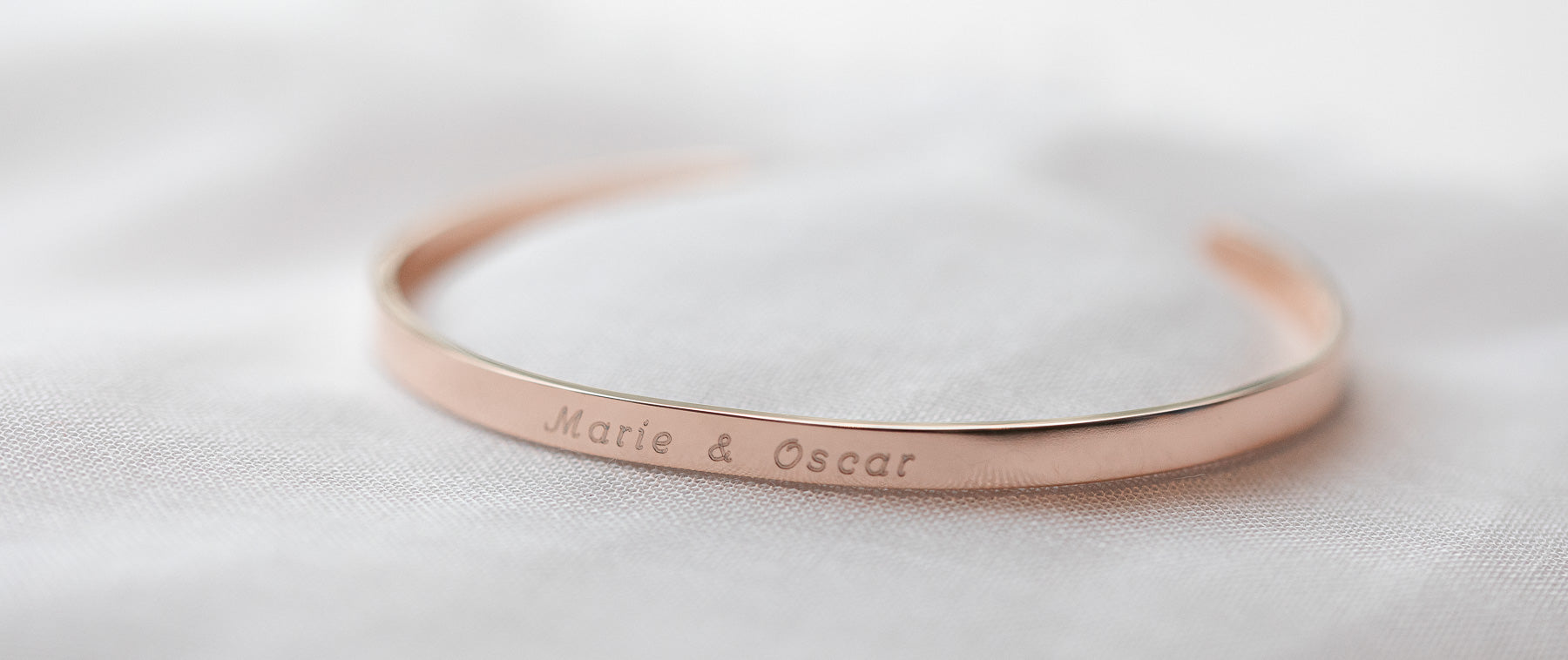 Are you looking for a birthday present for your best friend? Have you taken your partner or girlfriend into your heart forever or would you like to say thank you to your maid of honor? Our recycled stainless steel engraved jewelry is a symbol of the deep connection between two people. It is just perfect as a personal gift for women, as a birthday present for your best friend and just as much as a gift for Mother's Day.
In our online shop for you will find high-quality bracelets - also personalized on request - that tell your story in a special way. You can find our bangle with a personal engraving in the color silver in two different widths and in matt or shiny. Thanks to its size-adjustable opening (+-1.5 cm), it adapts perfectly to your wrist or that of the recipient.
Gifts for women: Finding a personal gift for your girlfriend doesn't have to be difficult. We are happy to take care of your request and deliver everything safely and personally packed to you. And that within a very short time.

For the best friend in the world: Your best friend is a very special person? Give her our love bracelet for her birthday or as a farewell gift and show her what it means to you to have her by your side. Have a bangle engraved for a unique person: Do you share values, feelings, thoughts and long memories with your mum? Let our shiny gold-plated bangle with personal engraving tell your own personal story! Bangle with engraving: Or give the best woman in the world - yours - with engraved jewelry and create a truly unique piece in rose gold here in just a few minutes. A stainless steel bangle for women that the recipient can keep on makes a lovely anniversary or Mother's Day gift to say thank you. Are you looking for a special farewell gift for your colleague who is about to change jobs? How about our Enjoy the journey bangle in silver?
Whether as a gift from girlfriend to girlfriend, from mom to daughter, from husband to wife. Individually designed jewelery is always an unforgettable gift. If you wish, you can have your bracelet engraved. Engraved jewelery gives you the opportunity to permanently share something connecting and personal.
Harmonizes with every look: Our bracelets made of recycled stainless steel are deliberately simple and minimalist in their design. This makes them easy to combine with any outfit. Its gilding, on the other hand, is particularly complex. We work with a mechanical gilding process. A gold layer of real gold is rolled onto the base material. Thus, our gold layer is waterproof, scratch and impact resistant. It adorns your bangle in the colors gold, rose gold or silver and can be layered with any look and jewelry. So you can always carry your gifts with you as a super personal accessory. ALWAYS CONNECTED: As a birthday gift, Mother's Day gift or gift for women in general - personalized bracelets with personalized engraving are the appropriate symbol for your friendship, your love or the deep relationship between mom and daughter and show that they are heart to heart together and together forever are connected.
Sustainable and high-quality fashion jewellery: Are you looking for a gold-plated bangle with engraving - cheap and yet of the best quality? Our stainless steel jewelery is particularly durable and even suitable for allergy sufferers. Our sustainable jewelry is the perfect gift. Thanks to our FSC-certified packaging for the bracelets, we save on wrapping paper and conserve resources.
Unser Edelstahlschmuck aus purem Edelstahl, der hochwertig vergoldet bzw. platiniert wurde, läuft grundsätzlich nicht an und verfärbt sich auch nicht. Bei vergoldeten Armbändern und Armreifen kann die Brillianz der Vergoldung bei regelmäßigem Kontakt mit Parfums mit der Zeit leicht verblassen - was jedoch nicht bedeutet, dass die Vergoldung abblättert, sollte dein Schmuck mal mit Parfum in Verbindung kommen. Wir empfehlen daher Parfum eher auf die Kleidung aufzutragen. Wir wissen, dass du deinen Lieblingsschmuck am liebsten immer anbehalten möchtest. Deshalb arbeiten wir mit einer sehr dicken Mehrfachvergoldung. Diese ist bis zu 100-mal langlebiger als die Vergoldung von herkömmlichem Modeschmuck. Dass unser Schmuck hält, was wir versprechen, siehst du unter anderem an Google-Bewertungen wie dieser HIER.
Seine lange Haltbarkeit! Denn unsere Schmuck-Designs aus nicht rostendem Edelstahl sind besonders robust und langlebig – die ideale Basis für filigranen Modeschmuck. Sein hoher Reinheitsgrad macht ihn unempfindlich gegenüber äußeren Einflüssen: Die Oberfläche wird im Vergleich zu 925er Sterlingsilber nicht an der Luft getrübt. Perfekt für hochwertigen Modeschmuck, der tagtäglich bei den unterschiedlichsten Gelegenheiten getragen wird. Wir nutzen für die Basis unseres nachhaltigen Schmucks bewusst Edelstahl, weil dieser nicht zu den sogenannten Konfliktmaterialien zählt und bei sortenreiner Trennung zu 100% recycelbar ist. Erfahre noch mehr zum Thema Material & Nachhaltigkeit .