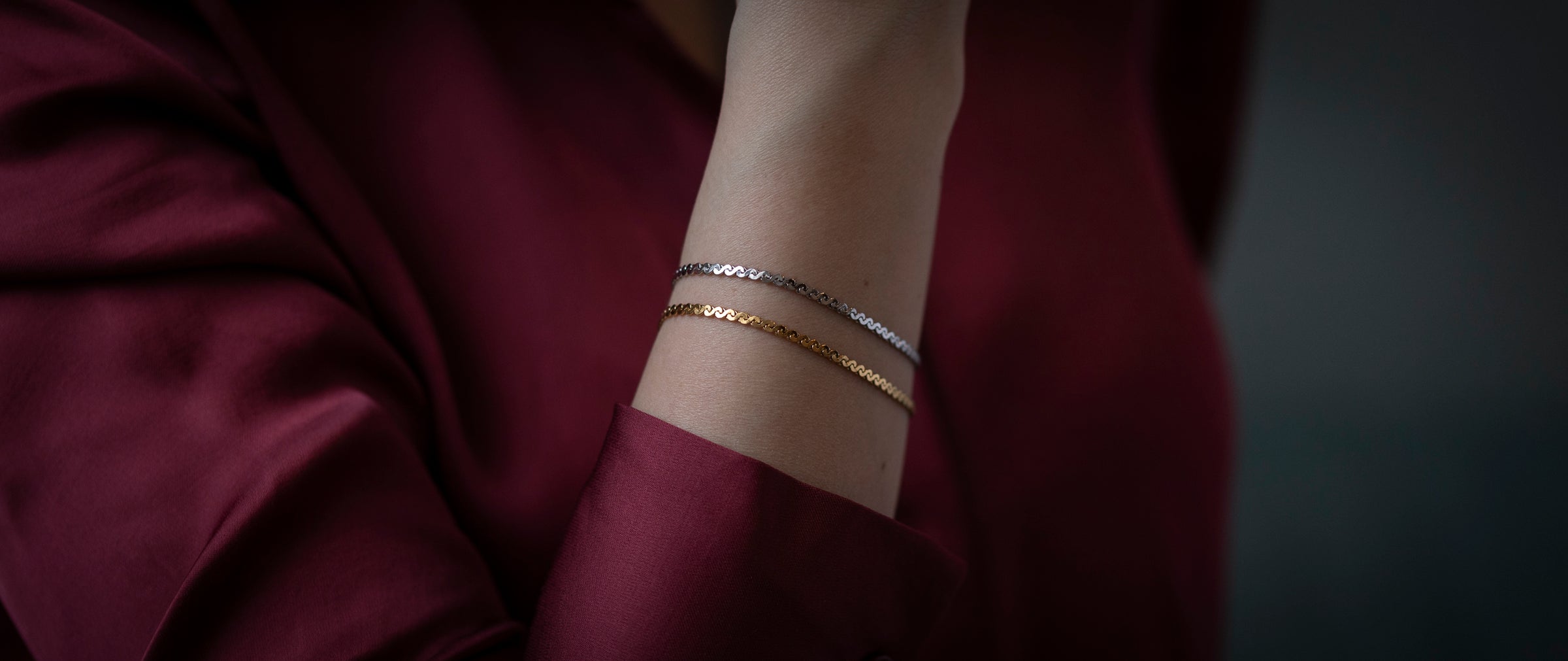 Do you know that feeling when a delicate bracelet keeps tearing or the gold plating quickly fades? That can't happen to you with a recycled stainless steel women's bracelet from us. You can wear and keep our robust and filigree designs on every occasion.
For example our filigree  Bracelet »Stella« made of high-quality gold-plated stainless steel. Our »Stella« bracelet is a wonderfully glittering bracelet in the color gold and thanks to the special finish of its individual chain links, it shines differently with every movement. It's no wonder that you're always fascinated - almost like the countless stars in the night sky, to which "Stella" owes its name.
Your search for a stainless steel bracelet with engraving will come to a happy end here. What story do you want to tell? Which loved one do you always want to carry with you? Give it a very special place: on your wrist. Our delicate Initial bracelet for women in silver is made of shiny, hand-polished stainless steel. The small plate with a diameter of 8 mm draws attention to the filigree, subtle engraving with your desired initial. The flat Italian carabiner holds the bracelet reliably and stylishly on the wrist. High-quality, robust and tear-resistant, it accompanies you through everyday life, because thanks to its great quality you can always keep it on. The bracelet is made according to your wishes and delivered in a noble box.
Our »Happy Birthday« heart bracelet in rose gold is a great birthday gift for women. This filigree bracelet for women with a heart symbol made of stainless steel in rose gold is a wonderful birthday surprise and, thanks to the matching card, is practically ready to give as a gift when it reaches you. Or you can have this decorative birthday greeting sent directly to the recipient and put a smile on their face.

We offer all stainless steel bracelets in gold, silver and rose gold for every occasion.
Unser Edelstahlschmuck aus purem Edelstahl, der hochwertig vergoldet bzw. platiniert wurde, läuft grundsätzlich nicht an und verfärbt sich auch nicht. Bei vergoldeten Armbändern und Armreifen kann die Brillianz der Vergoldung bei regelmäßigem Kontakt mit Parfums mit der Zeit leicht verblassen - was jedoch nicht bedeutet, dass die Vergoldung abblättert, sollte dein Schmuck mal mit Parfum in Verbindung kommen. Wir empfehlen daher Parfum eher auf die Kleidung aufzutragen. Wir wissen, dass du deinen Lieblingsschmuck am liebsten immer anbehalten möchtest. Deshalb arbeiten wir mit einer sehr dicken Mehrfachvergoldung. Diese ist bis zu 100-mal langlebiger als die Vergoldung von herkömmlichem Modeschmuck. Dass unser Schmuck hält, was wir versprechen, siehst du unter anderem an Google-Bewertungen wie dieser HIER.
Seine lange Haltbarkeit! Denn unsere Schmuck-Designs aus nicht rostendem Edelstahl sind besonders robust und langlebig – die ideale Basis für filigranen Modeschmuck. Sein hoher Reinheitsgrad macht ihn unempfindlich gegenüber äußeren Einflüssen: Die Oberfläche wird im Vergleich zu 925er Sterlingsilber nicht an der Luft getrübt. Perfekt für hochwertigen Modeschmuck, der tagtäglich bei den unterschiedlichsten Gelegenheiten getragen wird. Wir nutzen für die Basis unseres nachhaltigen Schmucks bewusst Edelstahl, weil dieser nicht zu den sogenannten Konfliktmaterialien zählt und bei sortenreiner Trennung zu 100% recycelbar ist. Erfahre noch mehr zum Thema Material & Nachhaltigkeit .